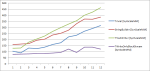 [This is a guest post, written by Primož Gabrijelčič, www.thedelphigeek.com]
One thing interested me since I started reading Eric's series on string concatenation performance – how would different memory managers compare in a multi-threaded scenario. Today I decided to spend an hour finding out…
edit 18/11: the tests were run with debug mode, which affected TTextWriter very negatively (TWOBS is also affected a negatively, but less, and StringBuilder and Trivial aren't affected much).  I'll be repeating tests with more memory managers and in more stable conditions in the next few weeks.
Contenders
Three memory managers were tested. In the first place, there was FastMM – not the built-in version but the latest SourceForge release (4.991).
Next I tested with SynScaleMM, which is part of the mORMot/Synopse.
The last contender was a new memory manager which I'll call NN. [I'm discussing the possibility of releasing it as an open source with the authors, but for the moment this is a proprietary memory manager.]
Methodology
I took Eric's source code and wrote a simple console app that generates results for the four tests he used in the multithreaded test and for number of cores from 1 to 12. I have a computer with two Xeon E5-2620 processors, each containing six cores, so 12 threads was a natural limit.
Programs were compiled in XE2 Update 4 Hotfix 1 (my natural habitat) and then I closed all programs running on Windows (7, 64-bit) and ran the tests from the command line.
Besides the time (which was calculated by the Eric's unit) I have also measured peak working set usage for each memory manager. This gives us a good indication of how much memory each program was using.
Memory Manager Performance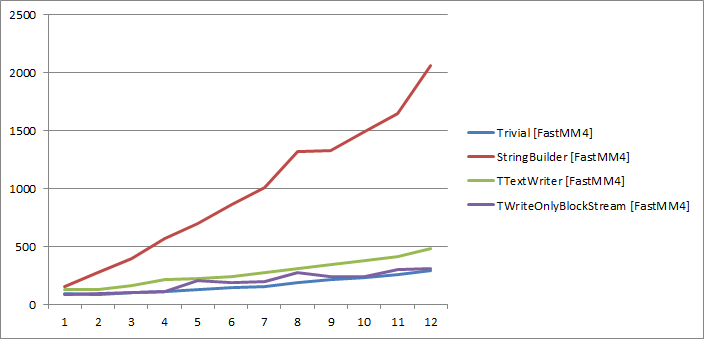 On my hardware (or maybe with my FastMM – I don't know the exact version Eric was using for his tests), trivial builder performs even better than TTextWriter and TWriteOnlyBlockStream. StringBuilder, however, is terribly slow.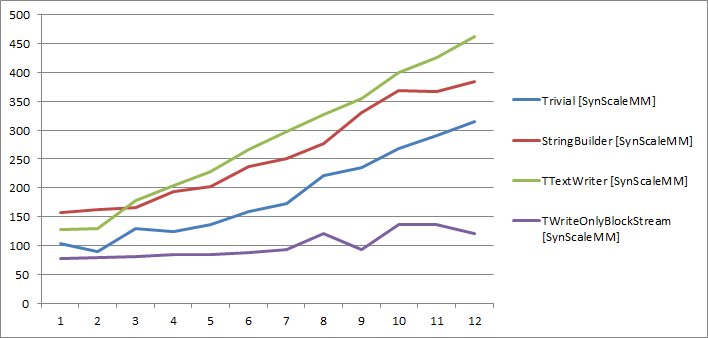 With SynScaleMM, TWriteOnlyBlockStream performs the best. There's actually almost no slowdown up to the 7 cores (and even the result on 8 cores could be a measurement error). TTextWriter is the slowest and trivial string builder performs better than StringBuilder.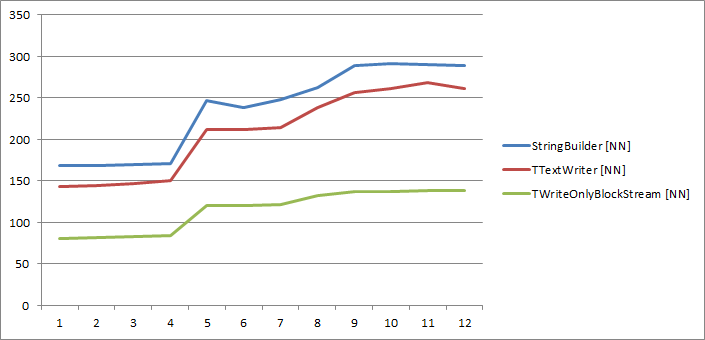 The NN memory manager is, interestingly, the fastest and the slowest of the bunch. As you can see from the graph above, all object-oriented algorithms are performing very well and are not linearly slowing down with the increased number of threads. On the bad side, the trivial algorithm performed so bad that I couldn't even plot it – it was literally 200 times slower than the FastMM4 version. I have notified the authors about that problem.