Previous: Algorithms and Memory Managers
Memory Usage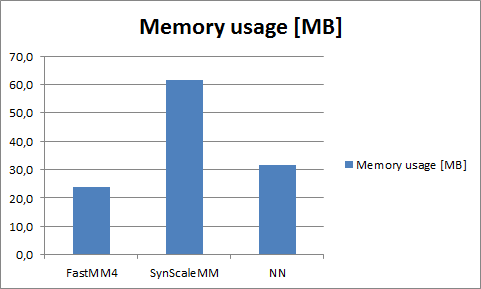 It is also interesting to compare memory usage.
FastMM4 is the winner here as it only used 23,7 MB.
SynScaleMM is a big memory hog and it used 61,6 MB.
NN was using about 50% less than SynScaleMM – 31,5 MB – which is good but still a lot more than FastMM.
Conclusion
So, what to choose? Or, rather, what not to choose.
SynScaleMM can be really fast but uses lots of memory and is, sadly, very unstable. It even managed to crash this simple benchmark once. I would definitely not use it in production.
NN can be very fast but it is also extremely slow while concatenating strings. It will also work only in 32-bit applications because of small parts of assembler sprinkled through the code. Both those deficiencies can be easily fixed once it is released as open source.
For the time being I'll stick with FastMM. It also has the best debugging capabilities of them all.
My dream scenario? Make NN open source and then convince Pierre to run a Kickstarter to finance integrating good features of NN into FastMM4 (which could then probably be called FastMM5). I know I would cash out few hundred bucks to see this happen.