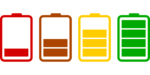 We all need more battery life, and for quad-core i7 & i5, a simple way to gain more battery is to simply turn off extra cores.
This little setting for Windows 10 made a whole world of difference in my experience, with battery life literally doubled on my core i7, and almost 50% gains on another i5 laptop.
Disclaimer: instructions that follow are for advanced users: if you do not understand the instructions, best give up than mess your machine. For all I know, if you misstep, you may end up blowing up a hole in reality and destroy the universe. You've been warned.