For some unfathomable reason, the TIOBE index distinguishes between "Pascal" and "Object Pascal", and the "Pascal" category is seeing growth: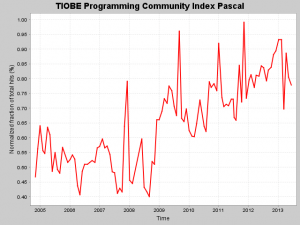 So it can't be the old classic procedural Pascal, can it? That leaves only Object Pascal dialects (FreePascal the largest, but also Oxygene and SmartPascal/DWScript). Pascal programming isn't dead or dying.
I'm guessing they're getting for Pascal indirect hits for the other Pascal dialects, which people just don't type in their entirety (TIOBE looks for "xxx programming" searches). So below is a table with a single Pascal entry.
Not enough to get into the top 10, but enough to get back in the game, and close enough that bypassing downtrending Ruby is a distinct possibility.
Position
june-13
Programming Language
Ratings
june-13
Delta
june-12
Status
1
C
17.809%
+0.08%
  A
2
Java
16.656%
+0.39%
  A
3
Objective-C
10.356%
+1.26%
  A
4
C++
8.819%
-0.54%
  A
5
PHP
5.987%
+0.70%
  A
6
C#
5.783%
-1.24%
  A
7
(Visual) Basic
4.348%
-1.70%
  A
8
Python
4.183%
+0.33%
  A
9
Perl
2.273%
+0.05%
  A
10
JavaScript
1.654%
+0.18%
  A
11
Ruby
1.479%
-0.20%
  A
12
Pascal
1.381% 
-0,62%
  A
13
Transact-SQL
0.913%
+0.21%
  A
14
Lisp
0.879%
-0.11%
  A