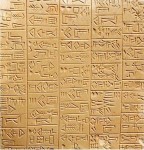 Here are the recent changes for DWScript from the SVN side.
As things settle down, next version should hit RC status by the end of the month.
Language
Added two new forms of "for in" which are fully Unicode-capable, ie. they work for characters outside the BMP, and unlike Delphi (or Java, or C#, or JS…) are fully Chinese (and Cuneiform) capable:

for <integer_variable> in <string_expression> do … : enumerates Unicode code values (in the full 0 to $10FFFF range)
for <string_variable> in <string_expression> do … : enumerates Unicode characters

Introduced initial support for attributes (TCustomAttribute), currently they are accepted only at the class level.
Delphi compatibility: support parenthesis ( ) as an alternative to brackets [ ]when declaring constant arrays, so all the following forms are now equivalent:

const a : array [0..1] of Integer = (1, 2);
const a : array [0..1] of Integer = [1, 2];
const a = [1, 2];

Properly qualify error when array methods are invoked on an array type rather than an instance.
Script Engine
Fix for some cases of sub-functions nested in a method calling another method of the parent class.
Fixed an optimization issue when passing object fields as a var parameter.
Fixed evaluation of "for in" dynamic operands (such as function calls) so they're evaluated only once.
Fixed assertion message surfacing in some runtime situations.
Changes applying to SmartMS (future version)
Now supports class methods on external classes.
Optimized several cases of record copy/assignments.
Added peephole optimization for "Ord(str[i])" to "str.charCodeAt(i)".
Fix CodeGen for static class methods of helpers.
Fixed cloning function for records that have sub-structures.