Previous: Presenting The Contenders
The Mighty Have Fallen
Here are the times per-iteration, lower is better, for 10, 100, 1000 and 10000 loop iterations. Loop execution time is normalized to per-iteration times (ie. loop run times were divided by 10 to the 10 iterations loop, 100 for the 100 iterations loop, etc.).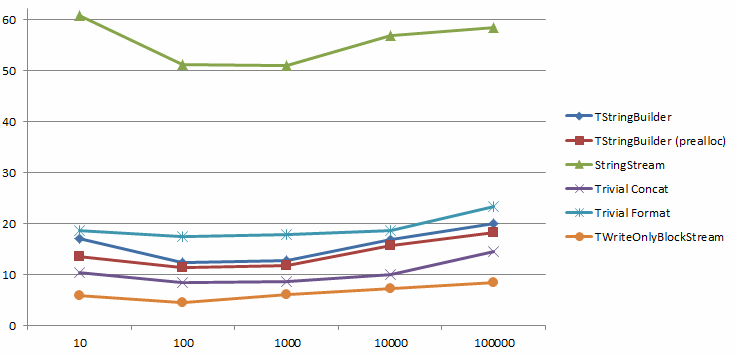 1 – The first thing that is obvious is that if you're using TStringStream, well, stop. You shouldn't. Or you need a very, very good reason to do so.
2 – The second is that if you changed your trivial, KISS string concatenations for TStringBuilder, well… take that hanky. Maybe you got lucky, and are in one of the cases where TStringBuilder is okay? Okay, maybe not.
3 – Trivial concatenation is simple, readable, and scales well. We're not in .Net or Java La-La-Land where a simple string concatenation gone wrong can throw you in deep pits of swapping hell. This is why I like the Delphi String type.
Format does not seem to be shining, but in addition to string concatenation and integer conversion, it also has to parse the format string, and given the flexibility, the performance is not bad at all.
TWriteOnlyBlockStream is doing fine with a decent lead, but its real-magic becomes visible in multi-threaded scenarios (which this benchmark isn't).