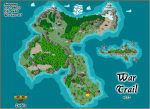 [1]The second Smart Context 2013 [2] has been announced! As with the previous round, first prize is a tablet device of your own choice (up to USD 750). This time the theme is "Game Development"
The rules are as follows:
Registration before the 13th of May (registration at [email protected])
Deliver your contribution before 3rd of June
The source code will be shared in our show case area
Preferable that it can run in the integrated IDE browser (but not mandatory)
No restrictions w.r.t game genre
No restrictions w.r.t project type (canvas, sprite, console, VCL)
You can use the trial version to make your entry
The registration date limit is not intended to be binding, but more like an "Hey I'm in", and for the previous contest [3] latecomers were accepted as well.
For this round I'll be one of the judges alongside Jon Lennart Aasenden, who recently posted two articles about game development, see part1 [4] and part2 [5].
For more details, head to the announcement page [2].